---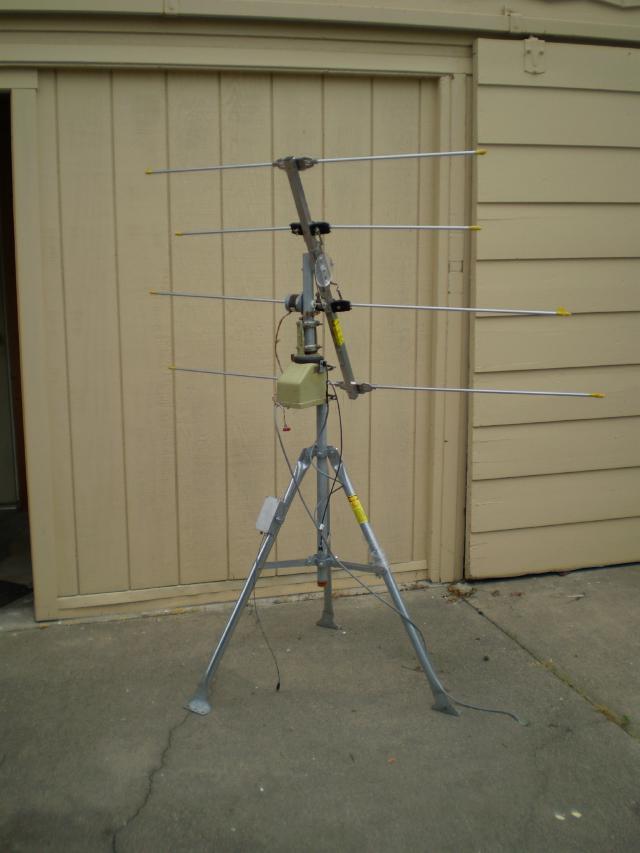 This is my semi-homemade alt-az mount with broadband VHF antenna attached, ready to go on the roof. Well, almost ready... I still need to do some testing on the ground. It's a lot more convenient than climbing a ladder to fix something.
It all starts with a pretty generic tri-pod mount. On top of that is a cheap used ChannelMaster rotator I got from eBay. That gives me the azimuth rotation part of the alt-az mount. Above that is a short section of pipe/mast which holds the antenna. So far, pretty standard.
Here you can see a closeup of the part above the rotator. Instead of using the standard "U" bolt to attach the antenna boom to the mast, I located the balance point of the antenna and drilled a hole there. A combination of threaded rod and nylon bushings allows it to tilt up and down from below horizontal to about 80 degrees. I'm at 38.5 deg north, so that's enough to track the sun to its highest point in the summer. The altitude drive is a 200 step/rev stepper motor. The shaft is extended through the vertical mast to a toothed pulley. The matching belt wraps around an acrylic disc from
Tap Plastics
and is fixed to the disc at a point opposite the stepper pulley. The large pulley gives me higher resolution than 1.8 degrees per step I would get with a direct or 1:1 drive.
The antenna is a Winegard HD-6000 I got from
Wholesale Electronics
I got a little bit lucky with the driver electronics. The ChannelMaster control box had a PIC16C57 processor in a socket. I reverse engineered it and then designed a board to plug in to the PIC socket. That's what you can see here in this inside view of the control box that mounts below the rotator. The original rotator control board (minus the LED display) is on the bottom, and my board is on top. I used a newer PIC16F87 and added a stepper driver for the altitude step motor. The heatsink (from an old PC Power supply) has the driver chip (salvaged from an old printer) and a 7805 5V regulator. I also added an RS-485 serial port so that I can tell the PIC the date and time as well as getting status back from it.
The small board with terminal block in the lower left of the picture is the power supply. The transformer is a Class 2 type mounted to the side of an electrical box in the attic so that no 110V needs to go outside.
The software that tracks the sun using only PIC level integer math is another story...
Cheers,
Keith